Sylvester Harris
February 11, 1948 - December 05, 2022
Obituary For Sylvester Harris
With humble respect, Sewell Mortuary in Grantville announces the transition of Sylvester Harris on Monday, December 5th, 2022.
Funeral service will be Saturday, December 10th, at 2 PM at Shiloh Baptist Church Alvaton Ga.
Visitation will be from 5 to 7 PM on Friday the 9th at Sewell Mortuary in Grantville.
Sylvester Harris was born on February 11, 1948 to the late Arthur D. Harris Sr. and Lucille Robinson Harris. He was the sixth of fourteen children. He confessed Christ to be head of his life and joined Shiloh Baptist Church at a young age.
Sylvester attended McCrary Elementary school in Gay Ga; where he had to come out in the sixth grade to help with farming; to provide for the family.
Sylvester had several jobs over the years prior to his health failing, William L. Bonnell, Newnan, Ga, Norman W. Paschall Peachtree City and High Brand Foods, Peachtree City Ga.
He had a love for fishing, hunting and gardening. He was also a die-heart fan of the "Atlanta Braves." His passion was being outside, meddling in his garden, sitting on the porch with his legs crossed and or cutting grass; he said it relieved stress. He had a smile that would brighten anyone's day; in which he came in contact with and loved spending time with his family and friends.
Sylvester was preceded in death by his parents, Arthur and Lucile Harris; his sisters, Helen Harris, Linda Donnelly, Mildred Patton and Annie J. Brittian, his brothers, Joe Harris, Henry Harris and Arthur Harris Jr.
Sylvester will be greatly missed and leaves to cherish so many wonderful memories; his daughter, Jacqueline Harris (Rodriguez---Rodney) Lyons, sisters, Betty Mitchell, Sandy Strozier and Debra (Randy) Stevens; brothers, Floyd (Mary) Harris, Rayvie (Betty Ann) Harris and Jerome (Regina) Harris, sisters-in-law, JoAnn Harris and Lilly Harris; brother-in-law, Ronald Donnelly, two grandchildren, Ashley A. Horton and Ramez R. Stevenson, two great grandchildren, Cedric (CJ) Horton, and Mikenzie Horton; a very Special friend, Ms. Ruby Pearl Anthony, a host of nieces, nephews, family and friends
Services
Sewell Mortuary
220 Charlie Patterson Rd
Grantville, GA
30220
Get Directions »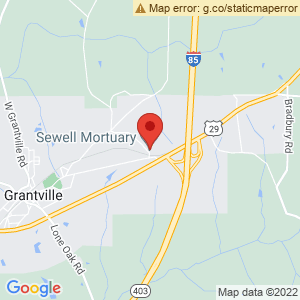 by Obituary Assistant
Photos & Video
Add New Photos & Video
Condolences